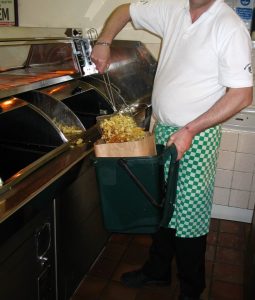 Trade Food Waste
Papersacks Ltd supply sacks for the collection of food waste from commercial kitchens, butchers, bakers & schools.
The sacks can be free standing, held in a purpose made trolley, or to line a caddy or bin.
Clean, cheap and user friendly
all help to encourage food businesses to care for the environment while still protecting their profits. Sacks are manufactured from 2 plies of wet strength paper so they will not collapse into the bin and will not easily puncture.
Convenient
Paper sacks do not have to be separated from the food waste when processed in Anaerobic Digestion. They will not foul macerators, produce biogas during processing and will not hinder the compliance of PAS110.